Requirements
WordPress Version : 3.4+
PHP Version : 5.5 php5 curl (LibCurl): install a version compatible with PHP version of the system. On a Windows machine it is php_curl.dll dll. On a linux machine it is the relevant package (e.g. apt-get install php5-curl)
PHP settings for uploading videos to WimTv: PHP assumes that there are upper limits to file size uploaded to a remote server. As this is typically done to avoid uploading files of excessive size by non-authorises users, upper limits are typically low (a few MB), especially for uploading video files. The values to  modify in file php.ini (in the relevant  configuration area of the PHP system) are:
post_max_size – Maximum size of POST data that PHP will accept – http://php.net/post-max-size
upload_max_filesize – Maximum allowed size for uploaded files – http://php.net/upload-max-filesize
Compatibilities with other plugins
WPML;
Backend Localisation.
Incompatibilities with  other plugins

qTranlsate;
jw-player-plugin-for-wordpress.
Custom skins: The WimTVPro player is JW Player. You can download the player's skin here: DOWNLOAD SKINS. The skin can be modified in .css.
To load a skin in WimTVPro, create a zip file containing:
– the .css of your favourite skin
– a .png logo
The logo file, the .css file and the .zip itself must have the same name.
A) Installation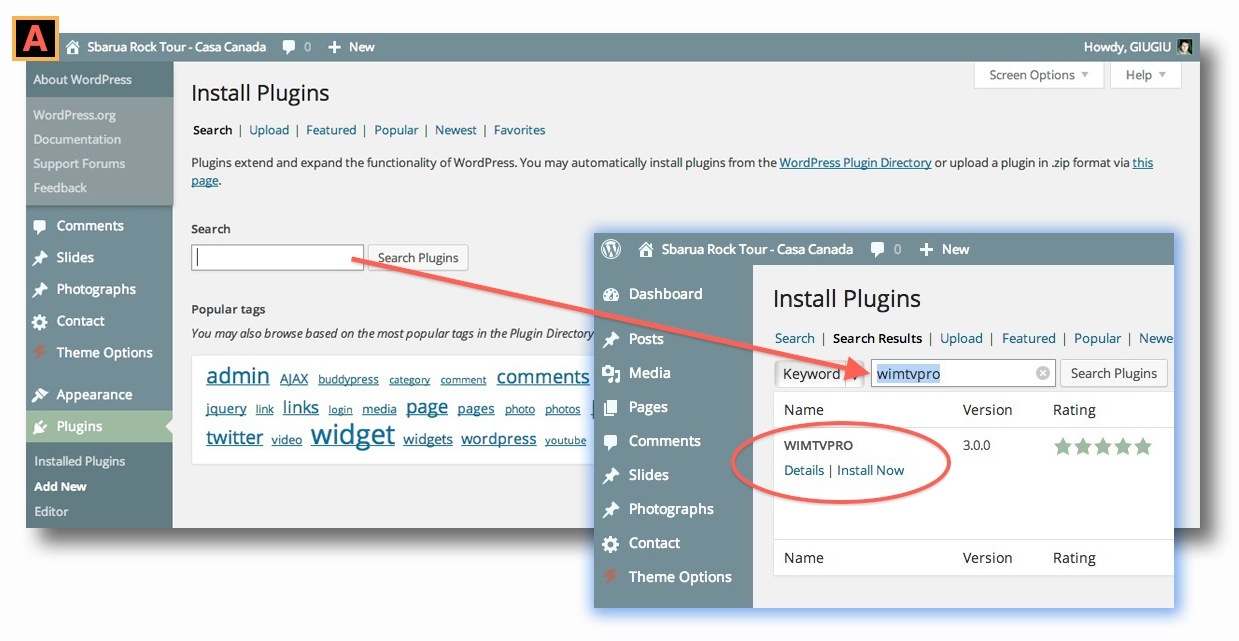 In the administration page menu of your WordPress web site, click the Plugins button, and then Add new.
If you look for  "wimtvpro" in the search bar  you will see the plugin with the Install now button. Click the plugin for automatic installation. Alternatively, it is possible to download the module from http://wimtvpro.tv/download.html and upload to this page. Available download  here:
Once the plugin has been installed, click Activate Plugin to make it operational.
WimTVPro is now installed and ready for use. The plugin is integrated in the WordPress administration page menu. You can recognise it from the WimTVPro logo and name.
B) Configuration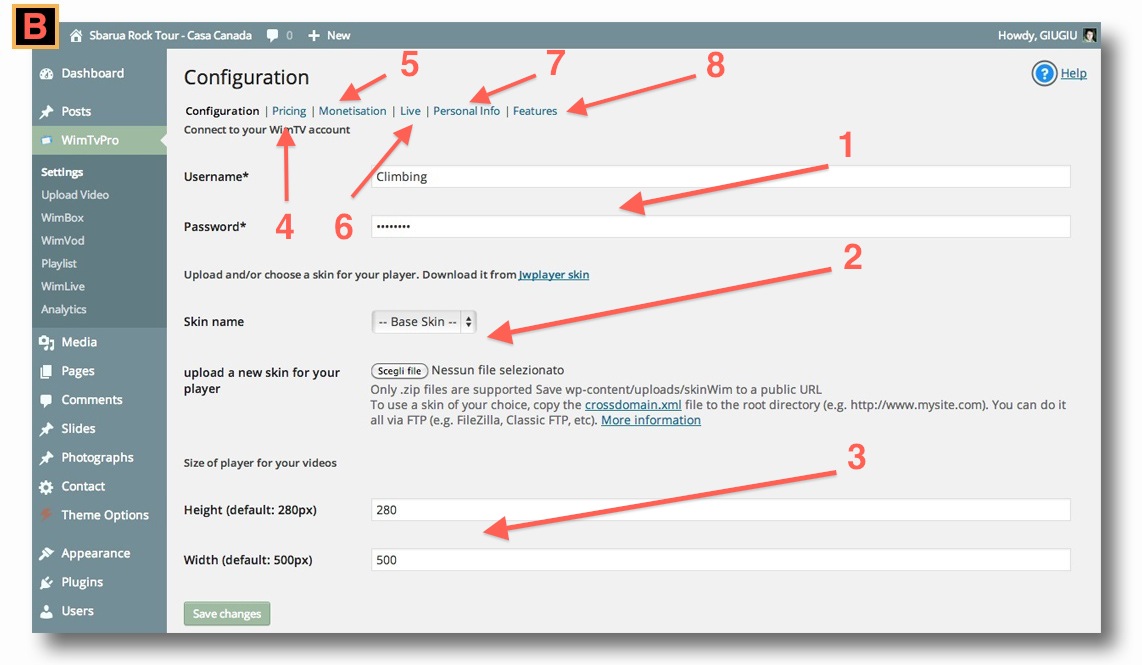 To use the plugin you need to have a Web TV account  on WimTV. Registration to  WimTV is free. If you are not already registered, you can  create an account by clicking Registration.
Once you have created an account, enter your credentials to the plugin section called Settings. In the Settings Configuration page you should enter configuration data and set your preferences to personalise the video player. In this page it is possible to:
Enter username and password of your WimTV account.
Choose the skin of your player. The WimTV player is JW Player and you can download personalised skins from this link: DOWNLOAD SKINS for use inside WimTVPro, by uploading to this section.
Video player default size (when it is used inside a Widget. If the player is included in a post or a page you can personalise its size each time – see later).
Now you can start using WimTVPro.
Other Settings pages to set parameters for advanced use of the WimTVPro plugin are:
4) Pricing: WimTVPro is a free plugin. To effectively provide services, however, you need storage and/or bandwidth. WimLabs offers storage and bandwidth packages suiting your needs. Note the free and custom packages.
5) Payment: enter your fiscal data so as to enable video streaming in pay per view mode. Once you have entered the requested data you can set the price your customers will pay to view the videos and live events from your web site and have all payments immediately accredited to your PayPal account. For each transaction WimTV applies a commission. The entry level is 30% for WimTV (70% net is for you because WimTV pays the PayPal commission).
6) WimLive Configuration: to enable live streaming services please select the Live Streaming field in this page. You can decide to add a specific password  for live streaming if you use an external video encoding software. Otherwise the same password you have entered for WimTV will be used.
7) Update personal info: here you can review and modify the data entered during registration of your WimTV account.
8) Features: if you select "Yes" in this page your videos will be published also on www.wim.tv. If you do not want this select "No".